Crazy for Flufiness!!!
I have been playing today. The headache is less and I tried to design an angel using frayed picots. I think I still need to work in the wings but here is my 1st try. Head, body and skirt was made in one round. The hands and the wings are another round (hand/wing) repeated for each side. In the scan you can barely see it, but she has her hands in the front joined with a flower bead.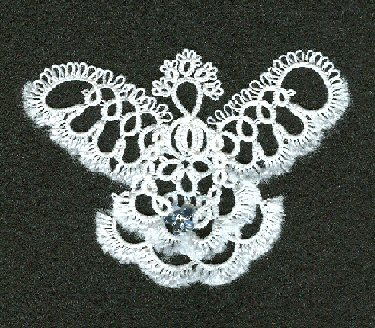 Also today in one of the groups I'm on (Crazee4Tatting) received an e-mail from Jeanne of a Fake Clunny. I'm a clunny crazy. Well, I don't make them as much as I would like because of the time, but I surely enjoy making them. So, I need to see Jeanne fake clunny. It is a cute bookmark with crocheted "clunny" leaves. Very clever!!! So, after I finished my angel I made this small medallion with bi-color frayed picots. **Am I obssesed with frayed picots?** I intend to contiue it to make a doily.