Easter reminds me of Spring and all the pastel colors. It's so beautiful the change from a dull Winter. I've been tatting recently from the Online Tatting Class and here are the results. These are lovely patterns and I'm sure I'll try them often.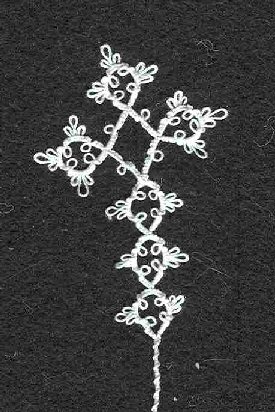 This lovely cross is by

Riet

and was discussed yesterady on the online class. Instead of beads I just made a small picot. I used Oren Bayan #70 in White and it's a little over 3 inches tall. Next time I'll try to get some petite beads and make it beaded.
This cute lil bunny motif is based on Erin's Bunny edging. It's so adorable and easy to make when using 1 or 2 colors. But as usually I like the challenges and I made my variation using 4 shuttles. The flowers are maltese rings and the tail are fluffy picots.
The motif will be glued unto a notecard and sent to my partner soon!
Also Friday I received a "Care Pakage" from Carol Rasor and inside I find some lovely threads and ceramic eggs. One is
and the other is
. The threads are Altin Basak in a varigated pink/blue/white and lime green. The DMC #80 is the varigated pink/blue/yellow. I have never made an easter egg but now I have a very good reason to make not one but two!