Russian Collar
Well I decided to use the filled shuttles to make a collar. I got Demidova's Russian book and I love it! Even if I have had found some mistakes like, some of the instructions are not complete or the diagrams (photos) doesn't match... It's a "Must Have" book.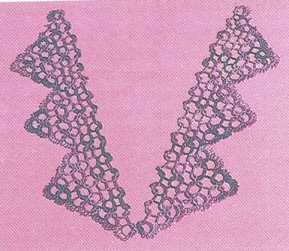 This is a picture of the collar as is on the book. I don't think the varigated color gives justice to the pattern. I preffer to have solid colors with this kind of pattern.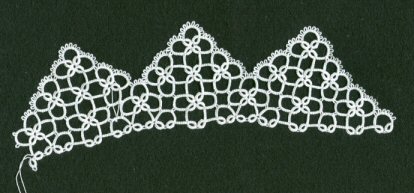 This is what I have done until now. Not bad for a few hours of work! I'm going to add an extra "point" to make it longer. Also I'm thinking in making it one piece instead of making 2 pieces... Well, may be not. I'm going to send this to my mom as her Xmas gift, so I think it's better if she decides how to sew it to the blouse.
I'm getting a little tire now. I woke up at 4 am to prepare breakfast for hubby. He returned to work this morning. *sight* Here I am alone in the house again! At least now I have the company of the kitty.